Are motorhomes and caravans warm and suitable during the winter season?
Published:
Modern motorhomes and caravans are designed to withstand most weather conditions, including the colder months of winter.
Several factors affect a leisure vehicle's winter suitability, including its construction, insulation, heating system, and how you plan to use it during the winter season. Here are some key considerations:
Insulation
High-quality insulation throughout walls, roofs and floors is essential for keeping a motorhome or caravan warm in colder weather.
Inadequate insulation can result in discomfort, temperature fluctuations, energy inefficiency, condensation and even potential damage to the vehicle.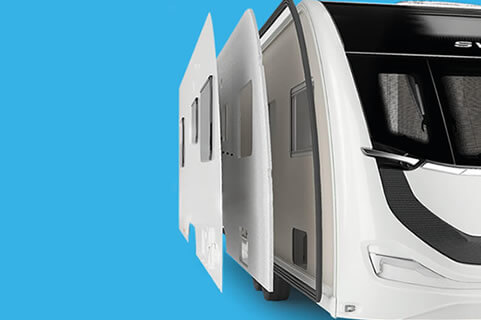 At Swift, peace of mind is provided by SMART, an ingenious blend of materials and construction techniques that guarantees improved insulation and all-important weather resistance, ensuring your investment will stand the tests of touring.
All Swift caravans and motorhomes go through extensive durability testing and cold chamber testing, down to minus 15°C and beyond, to ensure every vehicle is robust and suitable for tough winter conditions.
All Swift touring caravans, campervans and motorhomes are designed for energy efficiency, achieving Grade 3, the highest industry standard for heating and insulation, and certifying it for all year-round use.
Heating systems
A reliable and efficient heating system is crucial for winter travel. Most motorhomes and touring caravans are equipped with heating systems that run on electricity, propane, or diesel.
Advanced heating systems in motorhomes have evolved to provide greater comfort and energy efficiency. For example, the Swift Kon-Tiki motorhome has a number of heating features that includes:
Environment monitoring with internal and external temperature and internal humidity levels
Winter Pack with waste water tank heater with en-route heating to keep defrosted, insulated drain valve covers and fridge vent covers
Truma 'Crash Sensor Duo' regulator for en-route use of heating and water heating
Zonal control of Alde heating
Alde dual fuel radiator central heating and water heating with daily programming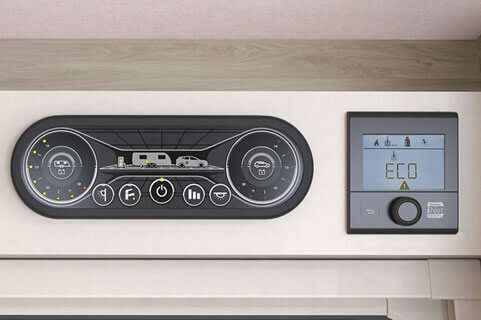 Advanced heating systems are also available across many modern touring caravans. The heating system in the Elegance Grande caravan includes:
Alde underfloor heating
Areas under beds and seats, and washroom areas are warmed by Alde perimeter radiators
Swift Command App, which manages and monitors key vehicle functions from your mobile device including power, heating and selected lighting
Alde continuous hot water
Alde radiator central heating and water heating with daily programming with LCD touchscreen control panel
Digital programmable controller for heating and hot water
Environment monitoring with internal and external temperature and internal humidity levels
If your caravan or motorhome heating system is not providing enough warmth, it may struggle to reach and maintain a comfortable temperature, making your trip uncomfortable.
Regular maintenance, inspections, and prompt repairs are essential to keep your heating system operating efficiently and safely.
Windows and doors
Double-glazed or thermal windows are common across modern motorhomes and caravans, and they help prevent heat loss and condensation.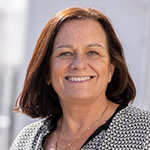 "Winter camping can be more challenging and potentially dangerous than in other seasons, so it's important to be well-prepared, and it's a good idea to gain some experience in milder conditions before attempting a more remote or extreme winter camping trip. Always prioritise safety and be ready to adapt to changing weather conditions."
Jo Mitchell, Marketing Director at Swift
Underfloor heating
Some high-end leisure vehicles come with underfloor heating, which can provide even and comfortable warmth throughout the living space.
Our Elegance Grande, for example, features Alde underfloor heating, a luxurious and efficient heating option for keeping the interior of the caravan warm and comfortable during cold weather.
All Swift caravan and coachbuilt motorhome floors feature black woven heavy-duty GRP to the underside which is insulated with 35mm Ravatherm, ensuring a well-insulated underside.
Winter packs and features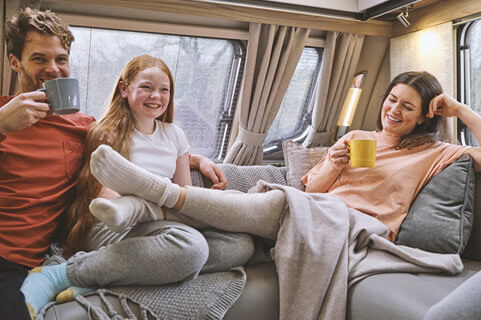 Some motorhomes and caravans have features specifically designed for winter use, such as heated tanks and water lines to prevent freezing. These can be essential if you plan to travel in very cold temperatures.
The Swift Voyager for example, is equipped with a winter pack that includes water tank heaters with en-route heating to keep your water supply defrosted, and fridge vent covers for ventilation to prevent damp issues.
Fuel and power supply
Ensure you have a reliable supply of propane or butane for heating and cooking during your winter trips. Make sure your tanks and bottles are in good condition and insulated to prevent freezing.
Most caravans and motorhomes use leisure batteries which are designed for deep cycling, which means they can be repeatedly discharged and recharged without damage. They provide power to lights, heating, appliances, and entertainment systems in your vehicle. Ensure your battery is fully charged before heading out on trips, and when you're at a campsite with an electrical hook-up, you can charge your caravan battery using the mains power.
Understanding your battery system and properly maintaining it will ensure a reliable source of power for your electrical needs, allowing you to enjoy comfortable and worry-free travels.
Winter camping locations
Choose camping locations that are open during the winter months and offer the amenities you need, such as electricity, water, and bathroom facilities. Some sites may have limited services in winter, so check in advance. Be prepared for changing conditions, including snowstorms, strong winds, and temperature fluctuations.
Remember that while winter camping offers a unique opportunity to experience the tranquillity of snow-covered landscapes, it also requires careful planning and preparation.
Tyres
Ensure your tyres are in good condition for roads that may have slippery surfaces. It's recommended a minimum of 4mm depth of tread for winter motoring and certainly no less than 3mm, even though the legal minimum limit is 1.6mm.
If you plan to drive in snowy or icy conditions, consider equipping your motorhome or campervan with appropriate tyres designed for winter weather, and carrying tyre chains for added traction.

Preparing your van for the winter with the Roaming Radfords
Snow load capacity
If you're parking your motorhome or caravan in a snowy area, ensure it can handle the weight of accumulated snow on the roof. All Swift caravans and motorhomes are built with increased roof strength to allow for additional load.
Before travelling, use a soft broom or snow brush to gently sweep off any snow. The Highway Code states that drivers must 'remove all snow that might fall off into the path of other road users' as this could pose a potential hazard to other drivers.
Winter accessories
Consider purchasing winter-specific accessories like tyre chains, snow shovels, ice scrapers, and ice melt for added safety and convenience. Packing for a winter trip requires planning to ensure you stay warm, safe, and comfortable in cold weather conditions.
Winter storage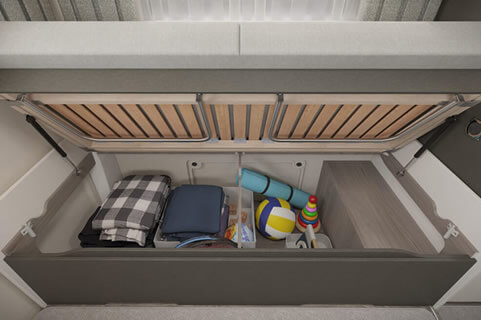 If you don't plan to utilise your caravan or motorhome during the winter then many choose to store their leisure vehicle in storage facilities to protect it from harsh weather conditions, freezing temperatures, and potential damage that can occur when it's not in use. Proper winter storage helps ensure your motorhome remains in good condition and is ready for use when the warmer seasons return.
Check out our guide to storing your caravan.
Summary
In summary, camping and travel throughout the colder months can be challenging due to cold temperatures and potentially hazardous road conditions. However, modern caravans, motorhomes and campervans are designed with features and amenities that make winter camping an opportunity that's comfortable and enjoyable.
Good preparation and maintenance are essential to ensure a safe and enjoyable winter adventure in your leisure vehicle.