Responsible manufacturing
For Swift, responsible manufacturing extends beyond achieving quality and environmental goals. It's also about how the business can support and help those who work for Swift to thrive, including our valued partners, our local community, and the natural world beyond.
It's more than an aspiration - a well-preserved environment where people can continue to venture and enjoy the experience of outdoor living is imperative to the survival of our industry.
To enable the many owners to enjoy the benefits of the outdoor life, it's essential that every leisure vehicle we make is able to withstand the rigours of road travel, provide a comfortable and safe holiday space over many years, and meet stringent safety criteria. Our challenge is to achieve these critical aspects and have a positive environmental influence.
"As a responsible manufacturer, recycling waste and reducing carbon emissions associated with the production and use of Swift's holiday homes, touring caravans and motorhomes, is and has been a key part of our strategy for many years. We ensure that environmentally-friendly methods of production are adopted, wherever possible, to minimise environmental impact and expect our suppliers to take the same approach.
But to be a responsible manufacturer we must go further. More recently, we have all come to appreciate the importance of nature to our physical and mental health and wellness, and the benefits of active outdoor lifestyles towards healthier and happier lives. Swift owners can experience this every day, as you will read below we also champion different initiatives to promote active lifestyles with colleagues, that in turn will have a positive effect on the community around us.
We know we are not perfect, and like each of us, Swift is on a journey seeking new ways to change the everyday, to adapt and create a more secure, inclusive and welcoming world where people and nature can flourish."
James Turner, CEO
The Swift Approach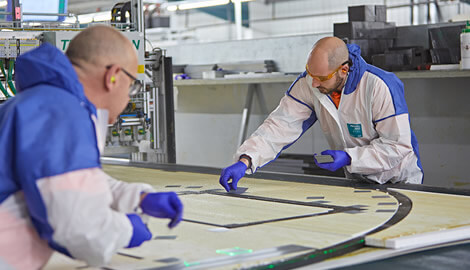 At Swift, we are committed to manufacturing excellence in our products and are the market leader in a number of our fields. We recognise that this leadership also extends into the way we conduct ourselves and our operations with respect to:
Our employees' physical and financial security, wellbeing, personal development and equality of opportunity.
The safety, security and freedom of choice of the workers employed in our supply chain through adopting and rigorously enforcing our Modern Slavery Policy.
Acknowledging our responsibility for our environmental impact with regards to the consumption of energy and materials, the minimisation and management of waste, and maintaining biodiversity in the areas from which our raw materials are sourced.
Extending that environmental concern into our products themselves, with an awareness of their impact both during and at the end of their useable life.
Maintaining the trust of our customers, suppliers and other stakeholders and dealing with them legally, fairly, responsibly and securely
Being a considerate neighbour to the communities in which our operations are based.
Investing for the future
Our production facility in Cottingham, East Yorkshire has been subject to large scale investment over the last decade, including:
A new Holiday Home production facility opened in 2018, designed to increase efficiency of the production process, minimise energy usage and maximise natural daylight.
The creation of a one way unloading area, sited between production units. It is a covered area to protect materials from the elements, with access restricted to authorised employees and contractors for improved safety.
To maximise efficiency, all furniture is now finished to the highest possible status alongside the final assembly lines.
Additional CNC machinery that reduces waste.
A full extraction system to capture and recycle sawdust for cleaner air. The tons of waste dust created are recycled into a number of different materials including pet bedding and paper.
The Swift Academy ensures all employees understand the importance of health and safety across the site. Moreover, all production teams are fully trained on relevant equipment with regular reviews to ensure compliance.
Swift encourages the use of electric or hybrid vehicles, and electric vehicle charging points have been installed. A cycle to work scheme is being introduced and a large bike shed is also available for those cycling to work
Employee Wellbeing
The Company would not be what it is today without our employees. The recruitment and retention of talented people is fundamental to everything we do. Here's just some of the actions we've taken:
We strive for success by nurturing and developing this talent from initial induction and familiarisation with the business, through to process and health and safety training and ongoing engagement with the Swift Academy.
Swift embraces lifelong learning for all employees and provides opportunities to attain a variety of professional qualifications.
We believe in equality of opportunity and are committed to building and maintaining an environment where all employees can flourish, both on site and via homeworking or a hybrid of both.
We are transferring all production employees from piece rate pay to salary, to engender a greater level of confidence and certainty for individuals.
We support employees financially, physically and also emotionally - we work in partnership with BUPA and have trained mental health first aiders available for all employees to seek help without judgement.
Swift Active is a programme of initiatives encouraging participation in different events to boost health and wellbeing, to make work more social and enjoyable.
A suite of Health & Safety and HR policies are in place to ensure that all of our employees can enjoy a safe and secure workplace, whether that be at one of the Company's sites, or remote working at their own homes.
All production teams are provided with appropriate workwear incorporating hi-vis clothing and safety shoes.
A new café facility is under construction to provide a modern space where employees can relax and recharge during break times.
Environmental Impact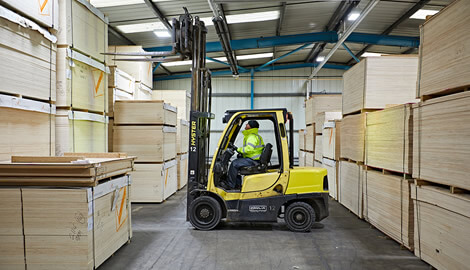 All waste paper and cardboard is recycled throughout the business, from the offices through to production in the factory.
Timber waste, including sawdust, is recycled into a number of different materials.
Our timber and plywood have been independently verified by internationally recognised certification bodies to ensure goods have been sourced from legally harvested forests.
Windows are delivered in specially-made crates which are then returned to the supplier to be refilled and reused.
All waste is segregated into separate streams, of which a significant proportion is recycled either by suppliers or recycling agencies.
Swift introduced the use of returnable packaging within our industry, so that suppliers of manufacturing goods can reduce the amount of packaging and waste produced across the manufacturing supply chain.
All plastics used in the build of our products which weigh over 100 grams are marked with their material type for recycling purposes. We produce a recycling manual for dismantlers of vehicles to reference.
Swift Group (in accordance with the End of Vehicle Life Directive) does not use any heavy metals in its construction.
To improve noise management and reduce emissions, Swift uses monitors to measure noise levels at the site's boundaries and installs silencers where required.
Energy Efficiency
From 2023, Swift will use 100% green energy across all its sites.
All Swift holiday homes, touring caravans and motorhomes are designed for energy efficiency, achieving Grade 3, the highest industry standard for heating and insulation.
Reducing weight and improving aerodynamics across the Group's touring caravans and motorhomes is a key element in the design process. By making them as light and aerodynamic as possible, we can optimise fuel-efficiency and cut carbon emissions that pollute the environment.
We were the first in the industry to pioneer the use of low energy LED lighting, which is now integrated across all holiday homes, touring caravans and motorhomes.
Nearly all external lighting and the majority of internal lighting has been converted to LED with remote control operation.
Swift employs an ongoing energy conservation programme in the factory including the installation of radiant heating as this is significantly more energy-efficient and evenly distributed in comparison to forced air systems.
Community and Engagement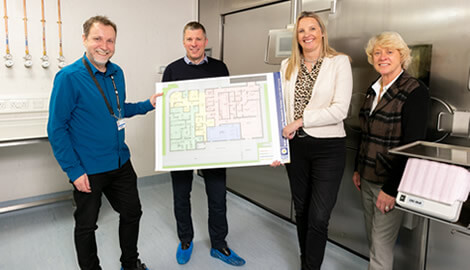 We aim to be a part of the community, not separate to it, recognising our importance as a major employer within the region to the financial wellbeing of individuals, families and the wider community.
We engage and work with local schools and colleges, providing site tours and work experience opportunities for their students and, where possible, learning materials to support them in understanding the industry.
We actively work with local organisations promoting equality in work and are founding members of Women in Manufacturing and Engineering (Yorkshire & Humber Region).
We support local charities both financially and through the donation of motorhome hire either to directly support people pursuing charitable endeavours, or as a competition prize for fundraising.