Are touring caravans a good investment?
Published:
A touring caravan can be a life-changing investment for many reasons, it's a big decision to make and there are many variables to consider, ultimately, one of the key deciding factors is always going to be around the financial investment - is a caravan worth the investment when compared to the 'regular' holiday set up?
Considerations
Before we get into weighing up the costs of investing in a caravan, it's important to acknowledge that this is a complex comparison to make with a multitude of variables. We'll be comparing averages for 'typical' households based on data available to us but your own personal comparison will be different. Our intention with this guide is to give you an approximate benchmark to help guide your decision.
Some areas to consider before making a decision include:
Frequency of travel per year
Number of people per holiday
Money budgeted for food & activities
Duration of stay per holiday
Towing capability with your existing vehicle
Longevity of investment (how long you plan to keep your caravan)
Buying a used or new caravan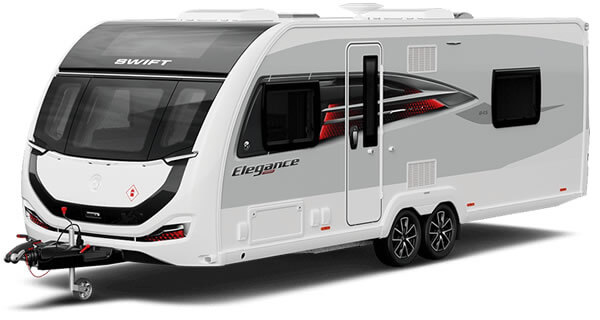 This is not an exhaustive list but we will be bringing these factors into play to highlight how these can influence your perspective to see if the investment is worth it for you.
Typical cost of a new touring caravan
Is a new Swift touring caravan worth it when compared to the cost of UK family holidays over time? According to NimbleFins, the cost of a new touring caravan is £15,000 at the low end and £35,000 at the high end on average, we'll take an average between these figures which gives us £25,500 as an average benchmark to work off.
A new touring caravan according to The Caravan Club should last at least 10 years, which is why at Swift we offer a 10-year bodyshell warranty. So for the purpose of this article, we'll use 10 years as a minimum as a reasonable length to keep your caravan.
There are other costs to factor in, we also have insurance to cover which NimbleFins has calculated at £202 on average per year for a caravan at £25,500 and site fees from your stays can be very reasonable especially when you're part of a caravan club - the discounts more than cover the cost of membership bringing a typical price per night down to £25. We're basing these costs assuming you have a suitable car for towing and a drive to store the caravan (storage costs can range £300 - £600 if required per year).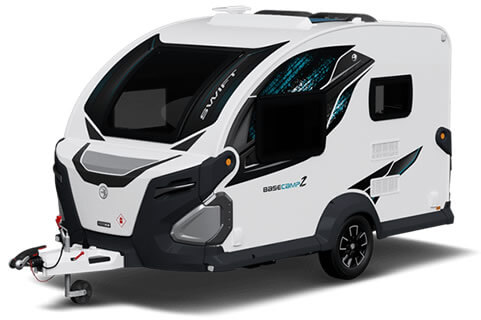 Past this point, a lot of other costs tumble very quickly like the cheap rates per night. You also have the huge potential saving on eating out as you can enjoy cooking and barbequing in the caravan which can save £100s per holiday, especially if you're a family. You generally also have access to a lot of cost-effective activities like biking and walking so the spending money required per holiday is less. That said, this is completely household-dependent and can be a real-world benefit that's felt as you holiday and is worthy of consideration on a personal level.
Typical cost of a UK family holiday
We'll be basing prices on a family of four which reflects what berth a mid-range caravan can comfortably accommodate. We'll also be basing this on UK holidays to provide a fair comparison so we'll be removing any flight costs and other expenses associated with going abroad. However, if this was factored in, this would further bolster the argument in favour of a caravan being a worthwhile investment.
According to NimbleFins, the average cost of a holiday per person for a 10-night holiday abroad was £947 in 2018. This data was brought from two office of national statistics publications but there is no specific data available for the UK holiday average. Of course, we must remove the flights from this and account for UK holidays running shorter at 7 nights on average and keep everything else the same. This brings the average cost per holiday to £490 per person, this is based on a family of four which brings the total cost to £1,960 per holiday in the UK.
Comparisons
Now we have the framework of all the costs involved we can start to look at how the cost effectiveness stacks up against each other.
|   | Touring Caravan | UK Family Holidays |
| --- | --- | --- |
| Upfront cost | £25,550 | £0.00 |
| Holidays per year | 4 x 7-nights | 4 x 7-nights |
| People travelling | 2 x adults, 2 x children | 2 x adults, 2 x children |
| Cost per holiday (inc accommodation, food/drink & activities) | £875 | £1,960 |
| Additional annual costs | £295 (Insurance & membership fees) | £0.00 |
| 10 year totals | £63,500 | £78,400 |
What this table clearly shows is that a family of four that travels four times a year over 10 years would save approximately £13,000. It's key to note this is not a 100% accurate figure, it's still using averages for elements like food, drink and entertainment, however; even factoring in some margin for error it still represents a clear cost benefit.
This also doesn't factor in after this 10-year period that a touring caravan can be sold on the used market and doesn't depreciate at the same rate as cars so would still represent a good value to sell on.
If we extended the lifetime beyond 10 years and also brought in weekend escapes, and spontaneous breaks then the premise of a touring caravan as a worthwhile investment becomes even more appealing. Conversely, if you only used a caravan for two years it wouldn't be as cost-effective because this is based on long-term enjoyment. A touring caravan is an investment so is best evaluated with long-term use in mind for you and all the family.
This comparison shows that you can have more quality family time together for less in a more convenient and homely way. But touring caravans are more than just a financial investment.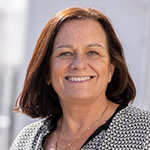 "Touring caravans facilitate travel and exploration, allowing you to create cherished memories and experiences with friends and family. The value of these shared moments and adventures often surpasses the monetary cost of the caravan."
Jo Mitchell, Marketing Director at Swift
Why touring caravans are worth more than money
Increase the volume of time together
As we've shown, a touring caravan can help you affordably spend more time together as a family. In our modern busy lifestyles, carving out this time together has become more challenging. Time spent around the home can be full of distractions, but conveniently escaping more regularly enables you and the family to bring high-quality, regular time back together that's undistracted.
Slow the pace of life down & disconnect
Beyond just families, for us all personally it can feel really challenging to disconnect from our ever-connected world. The pull of emails, social media and the news can feel oppressive until we truly take the time to remove ourselves from them to gain a fresh perspective. Escaping in a touring caravan can truly offer that time. Yes, a lot of sites have Wi-Fi available but when you have incredible memories waiting to be made in front of you it can feel easier to switch off from it all.
Get closer to nature & reconnect
One of the most effective ways to feel reconnected is through nature. With depression and anxiety on the rise, getting back to nature is scientifically proven to combat these feelings and generally helps to bolster your well-being. The 1000s of sites littered through the beautiful British Isles are nestled in some natural jaw-dropping landscapes that you'll never want to leave.
Fall into a part of a community
More people than ever are reporting feelings of loneliness, even when surrounded by family. Campsites bring together a wonderful community of like-minded people that you can choose to connect with. Family time is precious and that can still be respected, but there's also an incredible community of people to meet if you choose which can help improve feelings of togetherness.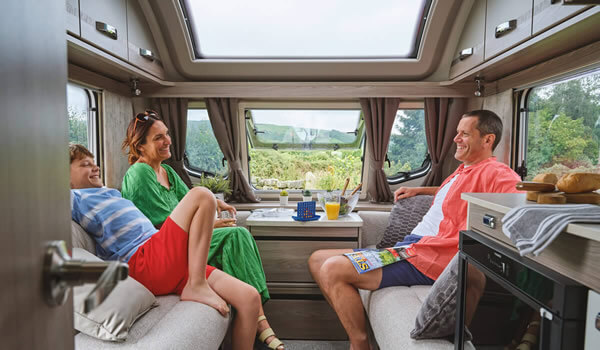 Explore your passions
Passions can seem like a pipedream when life is fast-paced. Having more time and being in an environment surrounded by activities from biking to hiking, kayaking to paddle boarding and more can present opportunities to discover passions you didn't realise you had.
Or it could be reading to crafting at a slower pace, having the time in the right environment can open up life-long passions that make you feel truly alive and happy.
Help children develop social skills & be more active
Getting children active and socialising can be really challenging with so many digital distractions to keep them occupied. Being surrounded by other families can naturally bring children together and create friendships whilst also getting them outside in the wild and keeping active which can last beyond just your holiday.
Control your cooking
In the UK up to 10% of adults and children have food hypersensitivity according to Allergy UK, this can make eating out more of a challenge as it's harder to control the options and food you eat. A touring caravan can be worth it for some families simply because you can cook delicious meals (or BBQs) that cater for everyone and at a fraction of the cost of eating out!
Environmental impact reduction
Even though there's the initial production of a touring caravan, the simple fact that you don't need to fly consistently has a profound impact on your personal carbon footprint. This value increases over time because the more you use the caravan the less you're flying abroad, so it's less costly for you and the planet.
Summary
To wrap things up, touring caravans can be a worthy investment because there's a clear long-term financial benefit coupled with even more emotional benefits. A caravan is also worth it, if it helps you to spend more quality family time together in an affordable way.