Why you should visit a caravan and motorhome show in 2023
Published:
Whether you're an experienced leisure vehicle enthusiast or considering buying a caravan, motorhome or campervan, visiting a show can be a very beneficial experience.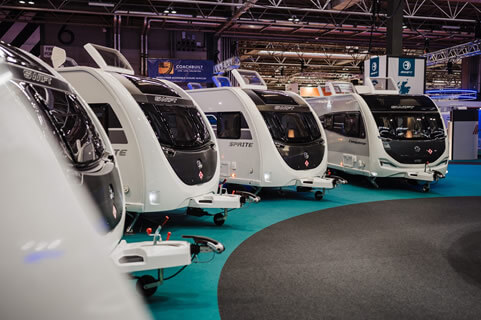 Visiting local dealerships, researching options online and getting advice from forums and groups are all great ways to find your perfect leisure vehicle, but exploring a large-scale exhibition show has a number of advantages - even more so if you're in the research phase of buying a caravan, motorhome or campervan.
Let's take a look at what these advantages are:
You can explore a much wider range of products
The larger exhibition events typically feature a more diverse selection of motorhomes, campervans and caravans from a variety of different manufacturers. This allows you to compare different makes and models, sizes, layouts, and price ranges all in one place, allowing you to explore multiple options in a short period of time.
Additionally, these shows often feature a wide range of camping and travelling accessories and equipment, so you can also shop for other kit too including camping gear, kitchen appliances, tents, and much more.
You get hands-on experience
Unlike looking at pictures online or in brochures, motorhome and caravan shows allow you to step inside and experience the vehicles first-hand. You can sit in the driver's seat, lay on the beds, check out the living space, and get a feel for the overall layout and amenities, which is an invaluable experience for making an informed decision.
Take advantage of exclusive deals and discounts
Many manufacturers and dealerships at the shows offer exclusive discounts, promotions, or show-only deals that can save you money on your caravan or motorhome. It's also a great opportunity to negotiate and potentially get a better deal.
Check out new models and product launches
Manufacturers often use shows to launch and unveil their latest models and product innovations. As technology is constantly evolving, these events showcase all the latest innovations in design, from advanced entertainment systems to energy-efficient appliances. By taking a look around and seeing these innovations first-hand, you can stay up-to-date with the latest trends.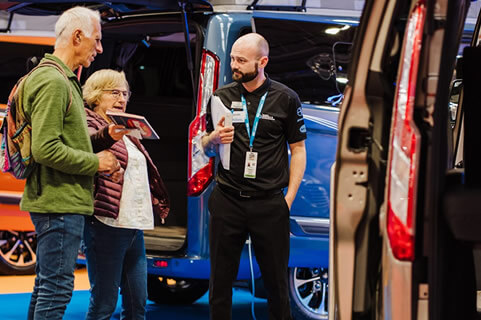 Get face-to-face advice from all the experts
Shows often attract knowledgeable industry experts, including representatives from manufacturers, dealerships, and seasoned leisure vehicle owners. You can ask questions, get advice, explore customisation options (if you are looking for a campervan), and gain valuable insights on towing, vehicle maintenance and travel tips, so you get the very best from your investment.
Network with other caravanning enthusiasts
Enthusiasts in this industry make up a friendly and supportive community. Attending a motorhome and caravan show can help you connect with fellow campers, join clubs, and build a network of like-minded individuals who share your passion for travel.
Learn more at educational workshops
Some shows feature seminars and workshops on topics such as maintenance, travel planning and inspiration, and safety. Motorhomes, campervans and caravans are a significant investment, and these sessions can help you to become a more informed, responsible and inspired leisure vehicle owner.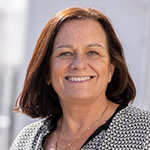 "Don't hesitate to ask questions to the sales representatives or experts at the stands. They can provide valuable information about the features and specifications of the caravan, campervan or motorhome you are interested in."
Jo Mitchell, Marketing Director at Swift
Get some inspiration
If you're considering the leisure vehicle lifestyle but haven't made the leap, attending a show can provide inspiration and motivation. Seeing the different motorhomes and caravans, and hearing about others' adventures will help you refine your preferences and needs.
If you are interested in a custom-built campervan or want to personalise your existing one, shows are excellent places to gather inspiration. You can see innovative design ideas, space-saving solutions, and the latest in campervan technology.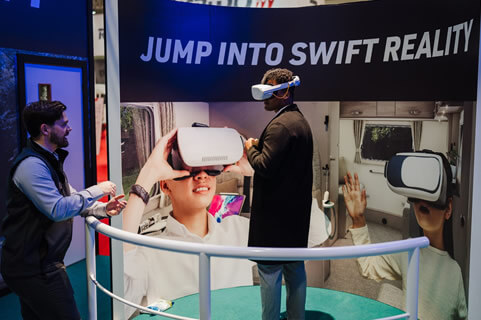 Family-friendly activities
Many industry events offer family-friendly activities and entertainment, making them enjoyable days out for the whole family. It's also a chance to introduce children to the joys of camping and outdoor travel.
What shows and events do we recommend?
There are many motorhome and caravan shows held across the UK, each catering to different regions and audiences. The choice of which shows to visit depends on your location, interests, and what you're looking to explore or purchase.
The Motorhome & Caravan Show held at the National Exhibition Centre (NEC) in Birmingham, spans almost 21 acres across 11 halls, and this huge event is the UK leisure vehicle industry's national showcase.
At Swift, we'll have over 50 caravans and motorhomes on display, and it promises to be our biggest and best line up yet. Join us from 17th to 22nd October in Hall 6. Use the code SWIFTMCS for a discount on advance tickets.
You can discover more shows and exhibitions on our events page.
Summary
In summary, visiting a motorhome and caravan show provides an excellent opportunity to explore a wide range of vehicles, gain insights from experts, connect with the camping community, and make informed decisions about purchasing a new product. Whether you're a seasoned enthusiast or a newcomer considering a new vehicle, attending a show can be a valuable and enjoyable experience.