2000 - 2003
The Charisma range replaces the Classic, marking a new standard of luxury in the value for money market sector. As ABI ceases touring caravan production, Swift purchases the brands to add the Ace, Award, Monza, Manhattan and Brooklyn names to its stable, along with a number of new dealerships to further build market share.
2004
Swift becomes the only manufacturer to operate in all three market sectors with the launch of the Debut and Vendee holiday home models. The company uses its unique flair to bring a modern new approach to holiday home design and is set to become the number three manufacturer in this market within a matter of years. A new factory just round the corner from the original Swift site in Hedon Road, Hull, is created to build the holiday home range.
THE FIRST SWIFT PRODUCED ACE TOURER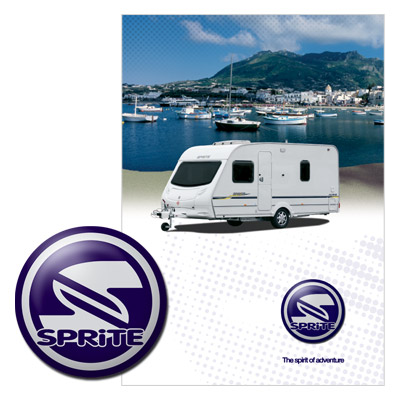 2005 - 2006
Work starts on a new 126,000 sq ft factory at the Cottingham site. This is officially opened by Labour Minister and local MP Alan Johnson in 2006. At a cost of over £8 million, it is the most up to date facility of its kind in Europe.
With recession looming, the importance of value for money leads to the re-launch of the Sprite brand, which proved an instant success and is now one of the largest names in the Swift portfolio.
The year also sees the launch of one-piece aluminium sides on the Abbey range, which is quickly extended across all Swift tourers and motorhomes.
THE DEBUT
A FIRST FOR SWIFT IN THE HOLIDAY HOME MARKET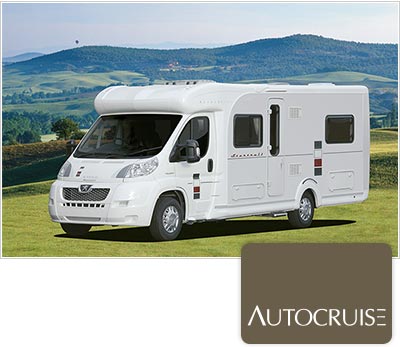 2007
Swift acquires Autocruise Motorhomes in South Yorkshire, together with the factory in Mexborough. The brand quickly becomes the backbone of the Group's van conversion range and takes over the number one market slot later in the decade.
AUTOCRUISE TEMPO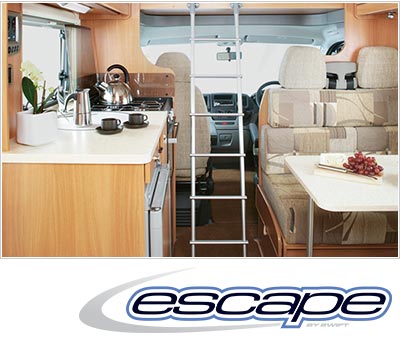 2008 - 2009
As the decade draws to a close, recession once again hits the UK and global economies. The Group's touring brands are streamlined to concentrate on the Swift, Sterling Caravans and Sprite ranges, and motorhomes to Swift, Bessacarr and Autocruise.
Again the decision is a success and, despite tough markets, the Group increases both market share and turnover.
The Escape motorhome range is launched at a price of around £30,000, proving an immediate success and continuing the Group strategy of providing products that set the standard in price, specification and value in every market sector.
THE FIRST ESCAPE MOTORHOME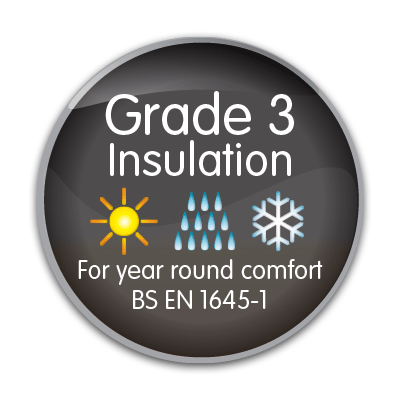 2010
All Swift tourers gain Grade 3 Classification for insulation, making them suitable for year-round use.
Another industry innovation, Swift Talk, is launched - the first manufacturer sponsored social networking site for caravan and motorhome owners. Swift remains the only manufacturer to offer owners direct access to company staff, enabling them to air issues (both positive and negative) in a public arena.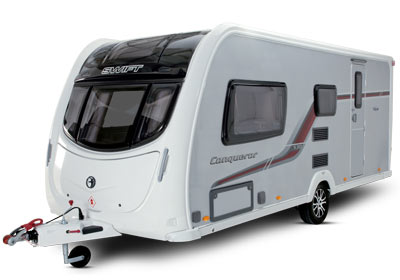 2011
Continuing to innovate, all Swift holiday homes get fully bonded side walls, similar to those used in the company's tourers and motorhomes. The holiday home offering has now expanded to over 8 ranges with more than 27 models, including lodges, making the company a major player in this market sector.
Swift and Sterling tourers in the middle to upper end of the market get a completely new, revolutionary body shell with sleek GRP mouldings, a new aerodynamic shape and an integrated sunroof window in the front of the roof - another UK first.
By 2014 this sunroof is available in all the Group's tourers. The launch was so eagerly anticipated that over 110,000 owners log on to the website to request information.
THE CHAMPAGNE LODGE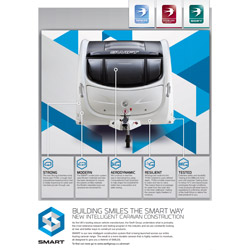 2012
Swift TV, Swift's own unique web-based TV channel, is launched. From product launches to guides about how to buy a holiday home, it is another Swift innovation.
A further first in 2012, Swift Group is the only UK manufacturer of both touring caravans, coachbuilt and van conversion motorhomes to have full ECWVTA for every model in its ranges, well ahead of the mandatory requirement.
Swift launches SMART, the new intelligent construction system standing for Strong, Modern, Aerodynamic, Resilient and Tested, across its entire UK touring caravan ranges. All timber in the bodyshell is replaced with 'Pure', a tough polyurethane material that does not absorb water.
50 YEARS OF SMILES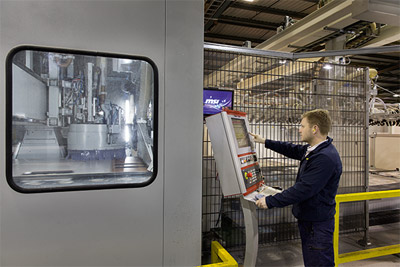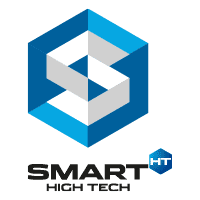 2014
Swift celebrates its 50th anniversary by launching a revolutionary construction method for two new top of the range models. Called SMART HT, the technology has been years in development and undergone major testing both at Millbrook and in Germany. With the use of modern materials that do not absorb water, products move even closer to automotive style construction and reliability, while a multimillion pound investment is made in new automated machinery to manufacture the new products.
Other innovations include Connect Direct, the online customer service account which personalises each customer's Swift ownership experience with 24/7 access to information, plus service history reminders and direct contact with Swift for reporting and resolving faults.
Swift also celebrates 10 years of holiday home production and 20 years as the largest UK leisure vehicle manufacturer, and international interest in Swift products has never been greater; export markets now include Holland, Denmark, Germany, Austria, Belgium, Australia, New Zealand and France.
SWIFT LAUNCHES BASECAMP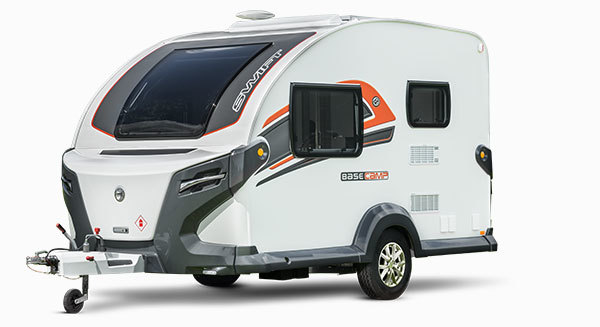 2016
Swift launches Basecamp, the fun and sporty crossover camping vehicle created for life's adventurers. Compact and weighing in at only 883kg (MRO), it can be towed by smaller cars and is easy to store when not in use, with a hardwearing, well-insulated SMART bodyshell designed for going off the beaten track. Winning several industry accolades, including the prestigious Red Dot design award, Basecamp's huge popularity has continued to increase over the years.
Swift Command and Swift Command Tracker are also launched, making leisure vehicle ownership more convenient than ever. Swift Command technology makes it simple to manage, monitor and control onboard systems, from utilities to location via a handy panel or smartphone app.
The Thatcham Category 6 approved proactive Swift Command Tracker provides alerts if an owner's vehicle starts moving. Pre-installed, it offers savings on the cost of fitting a similar device as well as insurance discounts*. *Dependent on insurer. Annual subscription required.
COMMAND NOW INSTALLED IN EVERY MOTORHOME AND TOURER

2018
The pioneering next generation of Swift's SMART technology, SMART 3 is launched to provide totally timberless construction and a lifetime water ingress warranty. Featuring a revolutionary new timberless floor manufacturing method and SRIM rear jointing, the development enhances leisure vehicle engineering for total consumer confidence.
In another industry first, Swift enters into strategic partnerships with Black Horse and Caravan Guard to introduce Swift Advance and Supersure Insurance. These finance and insurance initiatives are designed to offer customers the utmost convenience when purchasing a leisure vehicle, while ensuring their investments are protected.
The flagship Kon-tiki range is completely redesigned, delivering sensational style inside and out with a sleeker high line profile, sumptuous furnishings and a large stargazer window for fantastic views and more natural light. Swift Vision, a new technology designed to improve driving safety via colour side and rear view mirrors, is also added to the specification.
Every Swift motorhome and tourer now benefits from the Swift Command touchscreen panel, with USBs and DAB radio available. Celebrating the relationship between past and future, Swift marks the centenary of Eccles, the oldest name in car-towed caravanning, with a special anniversary edition. Kicking off centenary festivities at the NEC Motorhome and Caravan Show, this was displayed alongside a lovingly restored 1930s Eccles President, making a fascinating counterpoint to show just how far the industry has come.
Building upon its market-leading presence, Swift moves holiday home production to a state of the art, purpose-built facility at its main site in Cottingham, East Yorkshire, in a multi-million pound investment.
And in another major expansion move, 2018 sees Swift Group open the doors of its motorhome hire business, Swift Go, created to bring the leisure vehicle experience to a wider audience. Headquartered near Manchester, Swift Go becomes the UK's only manufacturer-operated motorhome hire facility, allowing consumers to enjoy adventures on the road or even test the waters of motorhome ownership.
KON-TIKI DYNAMIC LAUNCHED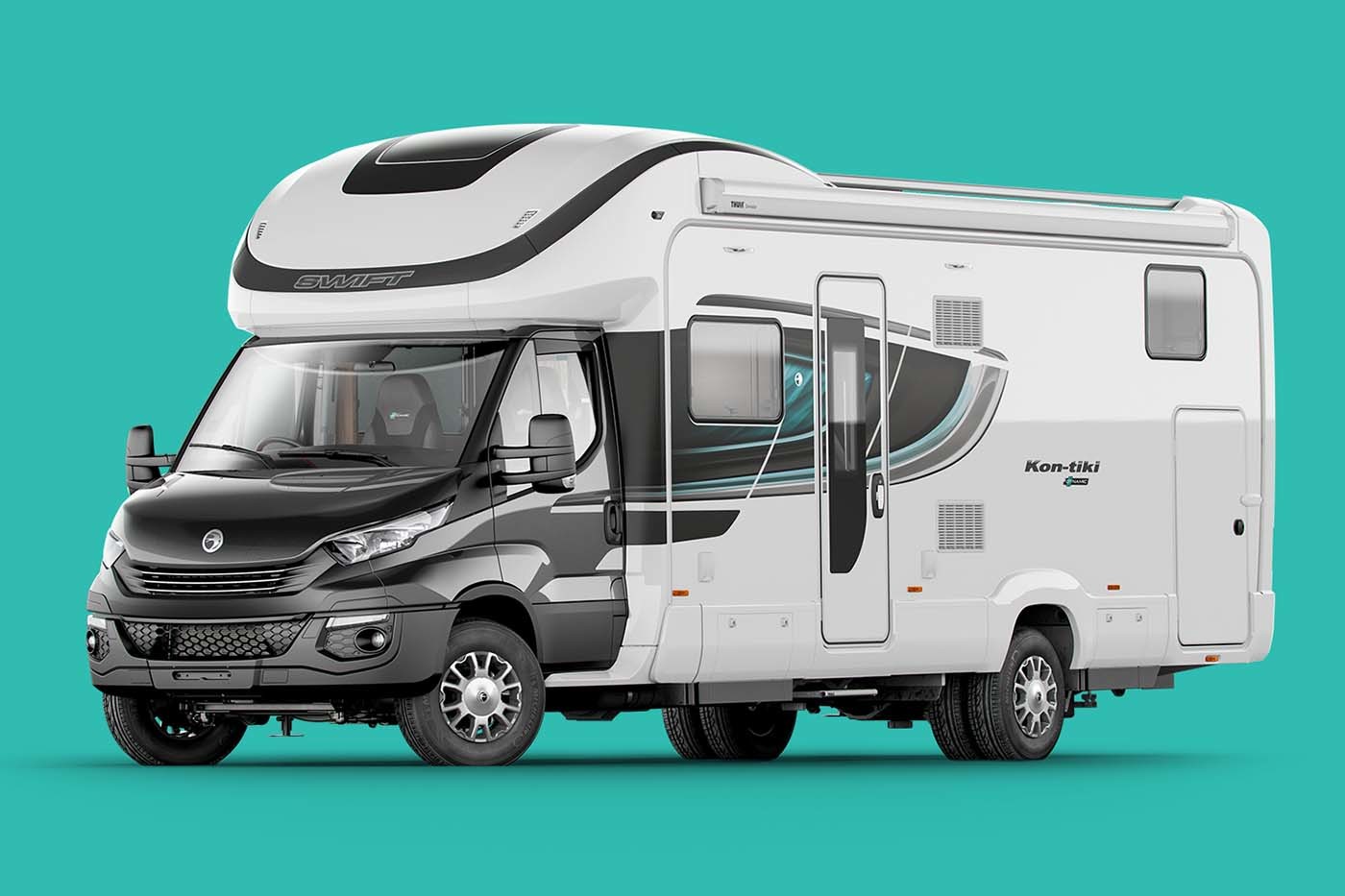 2019
The Kon-tiki range gains extra grunt with the launch of Kon-tiki Dynamic, a motorsport-inspired edition which can tow up to 3.5 tonnes and fuses brains, brawn and style for off-grid sporting lifestyles..