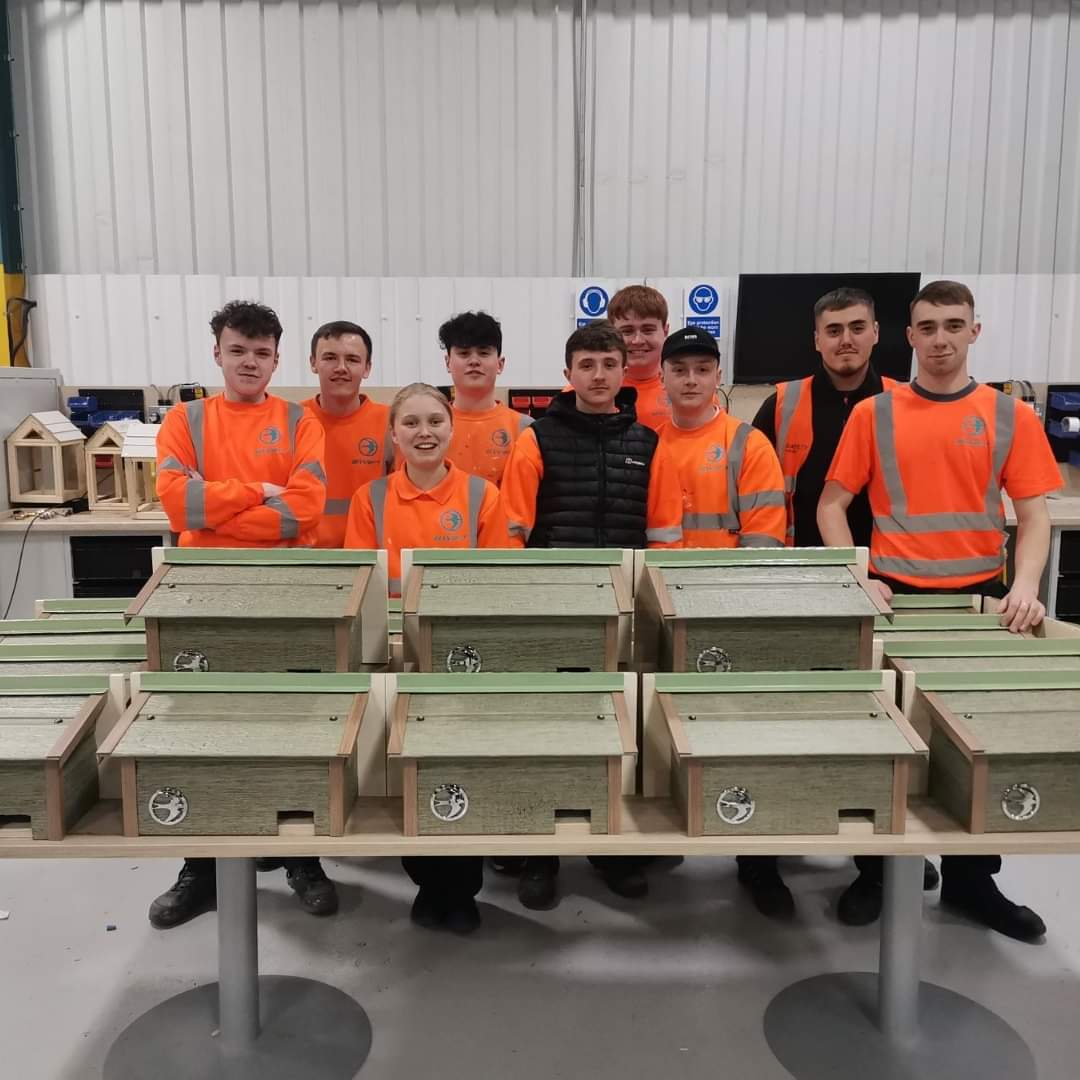 SWIFT APPRENTICES BUILD 'HOLIDAY HOMES' TO PROTECT NESTING SWIFT BIRDS
Working in partnership with the UK's largest holiday park operator, Parkdean Resorts, and the RSPB, our Swift apprentices, with the help of our Technical Training Specialists, have designed and built dedicated bird boxes to provide shelter for swift birds during their breeding season.
Swifts are an endangered species, in part due to a loss of nesting sites and habitats, and the purpose-built lodges will provide a temporary 'holiday home' for the birds as they return to nest in the UK.
Swifts are migratory birds, and much of their time is spent on the wing, flying between the UK and their wintering grounds in Africa, for example. When they return to the UK, they're looking for nooks and crannies, traditionally found in old buildings, in which to build their nests.
The installation of holiday homes for swifts at four Parkdean Resort locations this year marks the beginning of a long-term initiative between Parkdean Resorts and the RSPB to establish whether the sites are a viable option for the birds.
"We provide cosy, holiday homes in attractive holiday parks for everyone – and this summer, that includes swifts", explains Steve Richards, CEO, Parkdean Resorts.
"It may take a little time, as swifts mate for life and every year return to the same nesting places but in consultation with the RSPB, we think the homes built by Swift and the carefully selected sites, will help to meet the needs of these birds on our parks, by providing them with a sustainable alternative summer home for many years."
Our Deputy Managing Director at Swift, Amy Archer, added "When Parkdean Resorts approached us with the idea, we were more than happy to get involved. Naturally, the namesake made it a fitting opportunity, especially after learning about the increasing difficulties these birds face during their nesting season.
"Our apprentices worked together, alongside our Technical Training Specialists, to produce 25 purpose-built swift 'holiday homes' and we're now all waiting in anticipation to see what the nesting season will bring in the years to come."
The RSPB has been involved in the design and build, and we've been working closely with them to ensure the holiday home boxes meet the needs of the birds, whilst also advising on the use and inclusion of specific details to support the long-term initiative, such as the addition of a nest form to increase the uptake rate of boxes by swifts.
Guy Anderson, Migrants Recovery Programme Manager, RSPB added: "Swifts are extraordinary birds and we need to do all we can to help protect them, as their numbers have fallen dramatically in recent years. Refurbishment of older buildings and modern ways of construction means there are far fewer natural spaces for these birds to nest. They spend most of their lives on the wing, eating, sleeping, and mating in flight and so when they do land, it's imperative that they can find a nest and get comfortable, ready to welcome a new family."
"We're delighted that Parkdean Resorts and Swift Group have collaborated on this project, we love the new holiday homes for swifts and will be working closely with the Parkdean teams who will be monitoring the boxes and reporting back what happens in the coming months."