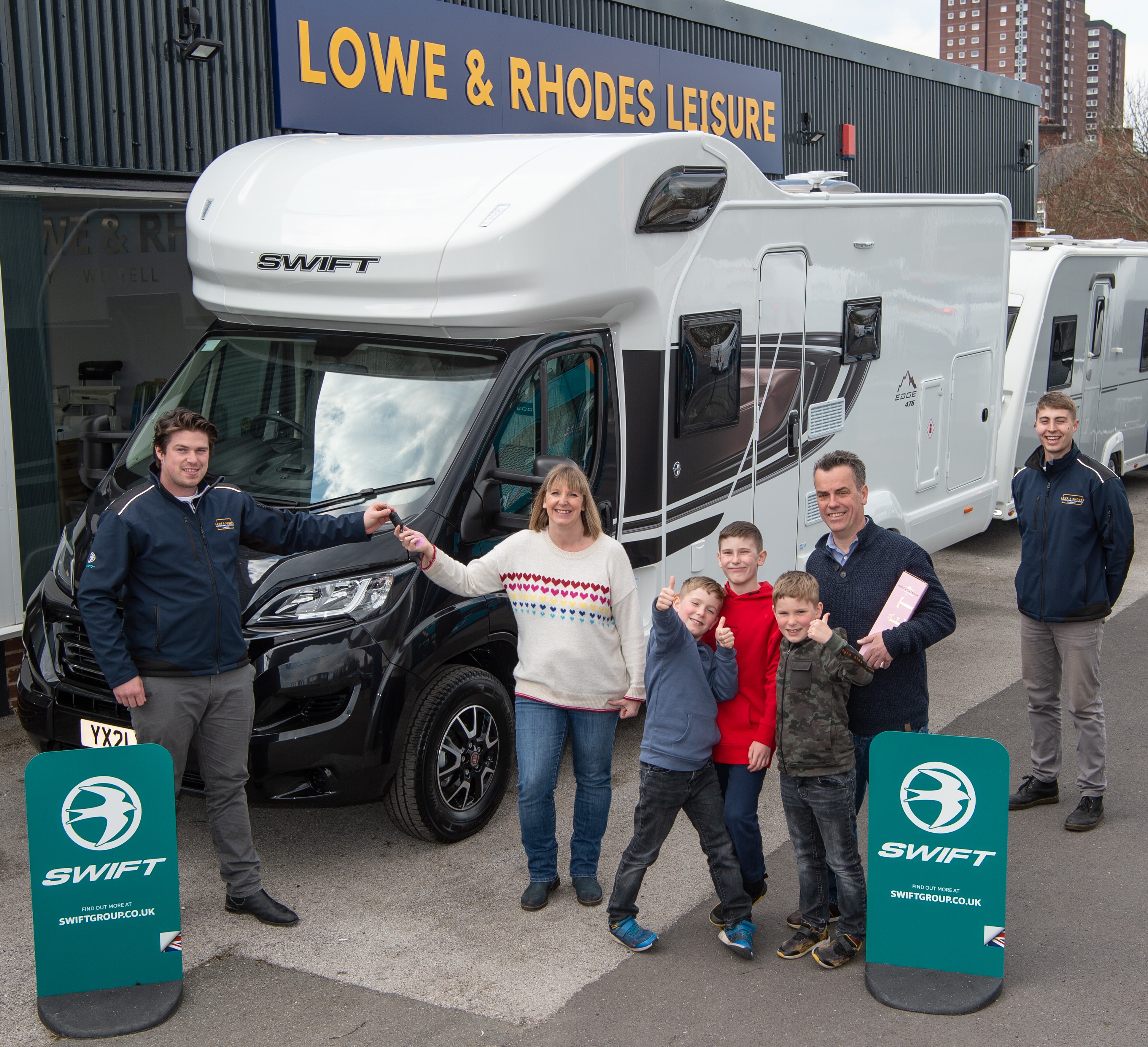 The Lear family collect their prize from Swift motorhome dealer, Lowe & Rhodes Leisure in Stoke-on-Trent.
Win an Edge Motorhome - competition winner announced
Swift Group, the UK's no. 1 manufacturer of touring caravans, motorhomes and holiday homes, has made a family's holiday dreams come true with the huge prize of a Swift Edge 476 motorhome. The winner, Catherine Lear, was among thousands of entrants to the competition, run in partnership
with The Camping and Caravanning Club. Along with her partner and three young sons, Catherine was presented with the prize at Lowe & Rhodes Leisure on 14 April, and is looking forward to using the motorhome for reconnecting with loved ones as soon as COVID-19 rules allow.
Catherine said...
"The motorhome is simply amazing. This is just like winning the Lottery, we keep pinching ourselves! It's wonderful to hear my family chatting about who will be sleeping where and what adventures we will go on – it's all they talk about, which is wonderful.
Thanks so much to Swift, the prize has opened a whole new world to us and given us all a real
boost."
Nick Page, Swift Commercial Director, added...
"We couldn't be happier to present Catherine and her family with their new motorhome. The Edge range is ideal for family usage with hardwearing materials and ample storage, so it has found the perfect owners with the Lears.
Especially after the challenging times everyone has experienced over the past year, it feels wonderful as a company to be able to bring a ray of sunshine into people's lives and help facilitate years of family getaways to come. We look forward to hearing about their travels and offer our huge congratulations."

Launched in the 2020 season, Swift's 'Win an Edge' competition included the prize of a new 2021 Swift Edge 476 Black Edition motorhome with 140bhp engine upgrade and Living Pack. The winner also receives 30 nights' camping with The Camping and Caravanning Club and a year's
membership, comprising a whole package worth over £50,000. First launched for the 2020 season, Edge is an ideal first motorhome primarily designed with family life in mind, inspiring a new generation of life's adventurers and presenting an excellent level of standard equipment.