Working at Swift
We have ambitious growth plans for the future and we want to attract high calibre employees to help us achieve our goals. Our industry is fast paced and dynamic and we are looking for people that will thrive in a culture where there are opportunities to develop and grow with the organisation.

Opportunities at Swift
We are always looking for enthusiastic people that are willing to learn. As we are a large business we have opportunities in many areas and can offer wide and varied careers. Our core business is manufacturing with around 80% of our employees involved in making components (in our machine shop, cabinet shop and GRP department) or assembling our products on the assembly lines.
We also have a diverse range of office based opportunities and recruit individuals with a variety of skills and experience to meet the specific needs of each department. Key areas include Design; Engineering; Supply Chain/Purchasing; Customer Services; Sales; Marketing; Finance; Human Resources, IT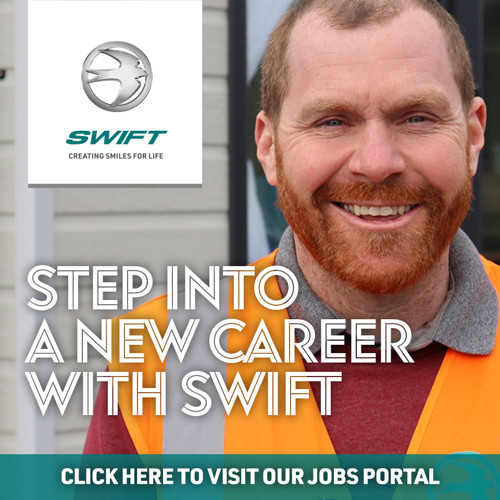 Apprenticeships
Be part of the Swift Academy and train for your Level 3 Engineering Fitter Apprenticeship
Do you have a good eye for detail? Have good problem-solving skills? And a desire to work with your hands? For September 2022, we're offering to train up our biggest intake of apprentices yet. We have 50 places to support young talent and kick-start your engineering career with opportunities across our manufacturing operations.
The Level 3 Engineering Fitter Apprenticeship programme will be delivered through HCC Training (Hull Training and Adult Education) and provides a firm foundation for developing highly skilled Manufacturing Technicians throughout our production operations.
We spoke to a couple of our current first year apprentices to find out what projects they've been involved in during their first year so far and what advice they would give to anyone looking to apply.
Step In, to a new career at Swift
Don't be what if. Be what next. Our Step In recruitment programme focuses on providing new career opportunities to people from outside of our industry. To ensure our high quality standards are met, all of our Step In recruits are supported with a 6-week comprehensive training programme giving them the confidence they need to hit the ground running.
We spoke to some of our latest recruits who previously worked in various industries - including insurance, hospitality and retail - to see what they had to say about moving into a completely new career with Swift.
Meet Mo, Hospitality to Cabinet Maker.
Meet Leyton, Supermarket to Exterior Cladder.
Meet Dave, Insurance Broker Manager to Furniture Maker.
The Swift Academy
The Swift Academy provides our employees with the opportunity to develop their skills and experience at every stage of their career, encouraging our employees to reach their full potential. We have invested in the Swift Academy because we believe in our people and want to demonstrate our commitment to their development. We are always looking for talented, driven people who have the desire to succeed and grow with the organisation.
Launched in 2015, the Academy offers employees the opportunity to join structured development schemes including bespoke training workshops, group projects, and accredited programmes that will lead to formal qualifications including examples such as executive MBAs, CIPS, ACCA's, ILM Management and leadership Levels 3 and 5, Engineering Scholarships, Advanced level 3 Apprenticeship schemes, and NVQs Levels 2 and 3 in subjects such as Team Leading, Business Administration, Customer Services, and Manufacturing Business Improvement Techniques.
Our on-line Academy provides our employees 24-7 access to their development options and pathways and opens up greater development options for self- guided learning in addition to the structure development plans taking place within the business.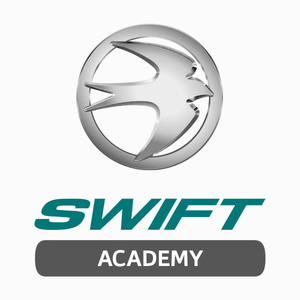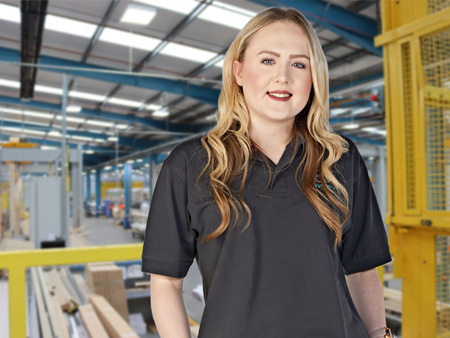 Abbie's story...
Meet Abbie our Undergraduate Project Engineer. Abbie joined Swift 4 yrs ago as an apprentice studying NVQ L3 in Mechanical Engineering.
"This role allowed me to work in different areas and gave me a great understanding of the business, the products and how they are made. As an apprentice I developed my hands on skills and my academic skills. Swift have an onsite academy; I could go there to work on mini projects which helped complete some of my assignments."
Abbie wanted to progress, she went on to obtain a role within Quality and after a successful interview she was accepted on Swift's Scholarship programme and became a Scholarship Engineer.
"Swift are committed to giving everyone equal opportunities and support with internal progression. They are very supportive of getting more females into engineering, I think it is something that's important. Since starting my new role, Swift have been committed to my development, I am now completing my degree in Electro-Mechanical Engineering.
The team at Swift provide support with Uni to ensure I do the best I can. I get to apply what I have learnt to some of the projects at Swift which gives me a better understanding and allows me to develop my skills. I am really enjoying my new role and looking forward to my future here at Swift."
Scholarship
We have created a fully funded engineering scholarship programme for ambitious, enthusiastic engineers who wish to continue their education to degree level, whilst in employment, gaining real work experience within a dynamic engineering department.
Candidates can join from A-level, or equivalent status (for example Level 3 BTEC and advanced apprenticeship routes) and updwards (for example HNC / HND) to work in one of our engineering departments such as advanced design, project engineering or manufacturing engineering. While employed as a member of the engineering department candidates are fully funded through their training programme tailored to their required development levels which can include progression through HNC, HND (delivered via HETA in conjunction with The University of Hull) and completing with a BEng degree from The University of Hull. All training is provided on University of Hull campus grounds one day per week.
Interest and applications can be sent through directly to the Recruitment Officer at Swift throughout the year with selection processes taking place by June / July for a September start date.


Leadership and Management Programme
As part of our ongoing commitment to developing people we have invested heavily into Leadership & Development Programmes to ensure our leaders and managers have the skills and confidence to inspire others. A comprehensive programme has been developed to ensure you are continually developing whether you are a recently promoted or experienced manager.