Product Recalls
A list of FAQs that will help to ease your mind if you have received a product recall notice for your Swift Caravan or Motorhome.
Touring Caravans
manufactured in 2017 model year
As a responsible manufacturer, the safety of our product and customers is of paramount importance and as such we carry out a rigorous programme of testing and detailed operative training to ensure our vehicles meet the required standards for both performance and safety.
At times we become aware of a defect and act proactively to address. We have recently notified the Driving Vehicle Standards Agency of a potential issue in relation to the installation of the front bulkhead on model year 2017 touring caravans and we have started a safety recall.
The number of reported defects is extremely low and a visual inspection by a Swift appointed engineer will quickly identify if a vehicle needs to be returned to the dealer or Swift for rectification work.
Please note, this recall does not include any touring caravans built with SMART HT e.g. Swift Elegance or Sterling Continental
What is the issue?
The bonding and/or fixing of the bulkhead may not have been fully completed in-line with the detailed Swift manufacturing procedure. There are multiple fixings between the floor and side panels into the bulkhead. The defect relates to one specific fixing type where failure leads to extra stress on the other fixings.
Where is the issue?
The Bulkhead at the front of the touring caravan as shown in Figure 1.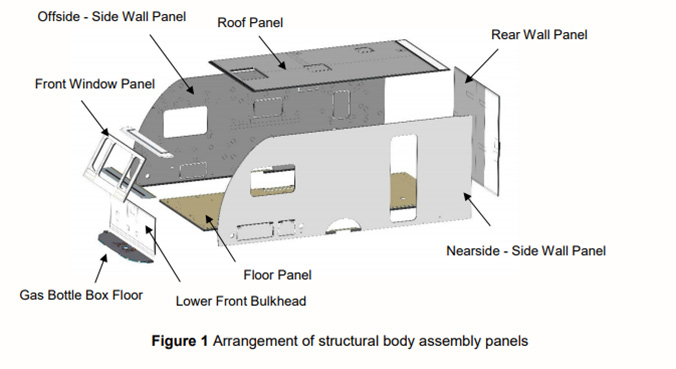 What action is Swift taking?
Swift has sent a letter to all registered owners of affected touring caravans requesting owners to book an appointment for a Swift appointed engineer to visit and inspect the bulkhead.
E-mails have been sent to those customers that we have on file. If you have not received an e-mail or letter from us please email fbe@swiftleisure.co.uk with the following information:
The 17 digit caravan serial number, this can be found on the weight plate next to your door and is also your CRIS registration number.
The full address where the caravan is located, we can visit your caravan at your home, caravan site or storage and you do not to need to be in attendance if you do not wish to providing the site or storage facility have your authorisation for our engineers to attend.
Your contact telephone number (preferably a mobile).
Due to the recent government announcement, we have reduced the number of engineers out on the road. We are offering dates up until the Christmas break, therefore encourage owners to let us know their availability so that we can effectively plan future visits.
What measures are in place in relation to COVID-19 when an engineer visits my caravan?
COVID-19 engineer guidance and what you can expect from our visit in relation to working safely.
Our Engineers will inspect and carry out any minor rectification work required, providing that they are well and have no symptoms of COVID-19. No work will be carried out by a Field Engineer or recall team member who has coronavirus symptoms, however mild, or when someone in their own household has symptoms.
Engineers will wear PPE supplied by The Swift Group.
Booking appointments:
When booking an appointment you will be asked if you or anyone in your household has COVID-19 or showing symptoms or think could be at risk of Covid-19 or are self-isolating. If this is the case the visit will be postponed for at least 2 weeks.
The engineer will also call you on the day of the appointment and ask the same set of questions, in case anything has changed since booked.
During a visit:
You will be notified in advance of the engineer's arrival.
If you or anyone in your household has or has signs of COVID-19 the visit will not go ahead for the engineer's safety.
There is no need for an engineer to enter your house.
Personal protective equipment (PPE):
On arrival the engineer will sanitise his hands using appropriate hand gel and put on a new pair of gloves.
The engineer will also wear a face mask.
The engineer will maintain a safe distance (at least 2 metres) from any household occupants at all times, and ensure good ventilation in the area where you are working, including opening the windows of the caravan.
Our engineers will be provided with a master key, however if for any reason they need to collect your keys you will be asked to leave them on the step or ledge and step back. When they are 2m away they will lift the keys using a sanitising cloth and wipe keys all over.
When returning the keys they will wipe again with a sanitising cloth and leave on step or ledge.
Work Undertaken:
We ask that you stay away while the work is carried out. If this is not possible, please stay as far away from the engineer as possible (at least 2m minimum).
Our engineers will be particularly strict about hand sanitising and respiratory hygiene (all coughs, sneezes, nose blowing will be caught in a tissue and disposed of safely).
Once the work is completed, all surfaces that our engineer has been in contact with including window latches door handles and bed pull outs etc. will be wiped down with a sanitising cloth.
Our engineer will confirm with you which surfaces and areas he has come in to contact with and that he has cleaned them.
All sanitising wipes, tissues, gloves and masks will be bagged and taken away for safe disposal. All used materials and parts will be removed prior to the engineer leaving.
Completion:
When the work is complete our engineer will take photos as evidence of work /findings.
Our engineer will verbally inform you of what has been done and if there are issues remaining and that they have sanitised the area.
Any keys provided will be returned sanitised.
The engineers visit log will be completed including the date, time and person(s) seen this is important should the engineer or the householder develop systems later for tracking purposes.
Tracking COVID-19:
You will be informed should any engineer later develop COVID-19 symptoms within 2 weeks of the visit.
We also ask that should you or anyone in your household develop COVID-19 symptoms within 2 weeks of the visit, please inform The Swift Group
How do I book a visit from an engineer?
Please refer to the letter sent from Swift. If you have not received a letter but you own a caravan manufactured by Swift Group in 2017, please email fbe@swiftleisure.co.uk with your chassis number, the full address where the caravan is located and a contact telephone number (preferably a mobile).
Why do I need an engineer to visit?
It is Swift Group's responsibility to ensure your touring caravan meets our standards, and therefore, it is important that a Swift appointed engineer conduct an extensive inspection.
I need to use my caravan before it is inspected, is this OK?
There are a number of simple checks you can make before using your caravan:
a) Look inside the gas locker where the bulkhead meets the side walls panel. There is a metal angle bracket which secures the bulkhead to the side wall panels. Check that all screws are present and hand tight with a screw driver.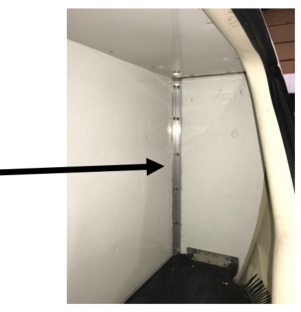 b) Look inside the gas locker where the bulkhead meets the upper shelf and check there is no evidence of the joint having moved. This is most evident if the sealant used at the intersection of the two panels is compromised and there is gapping between the two panels.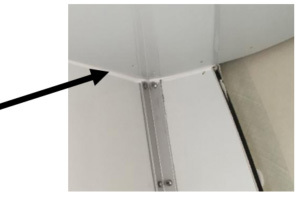 c) Check the front corner steady winder is still visible through the skirt hole and the winder will attach.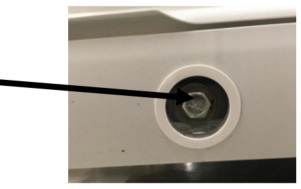 If you are satisfied your caravan meets these checks then our best advise is to carry on and enjoying time away in your caravan.
How long will the engineer need to inspect my caravan?
The check should take around 15-30 minutes to complete.
What happens if the engineer detects an issue?
The engineer will notify our office staff who will arrange for your vehicle to be transported to your dealership.
This could take up to 14 days to arrange
Can I book a set day?
Our teams are only able to book the commencing date of your preferred week (not the specific day), these usually run from Monday to Friday each week (excluding bank holidays). However due to the phased return to work following COVID-19 our engineers will be working Monday to Thursday in the short term.
When will the day and time be confirmed?
Our engineers will call you at least 24 hours prior to the visit.
Can you go to a storage or camping site?
Yes, when e-mailing please advise us of the location of your caravan and we will attend there providing you have confirmed the site is happy for our engineers to gain access.
When can I expect a reply to my booking email?
We aim to get back to you within 10 working days, however, this does depend on the volume of correspondence, which is high at this moment in time and therefore may take us longer to respond.
What if I cannot send an email?
That's no problem, you can write to us and someone will respond to you as soon as possible. Please be sure to include a contact telephone number so we can call you. Please be aware that there will be a delay in responding to any written correspondence sent to us via post. E-mail is our preferred method of contact at this time as we have reduced staffing at our factory and we are currently operating a phased return due to COVID-19.
Can I call?
The best way to contact us is via the e-mail address FBE@swiftleisure.co.uk, as this is a dedicated e-mail address that has been created specifically to deal with this recall. We do not currently have the facilities to take incoming calls as our reduced number of staff are, where possible, working from home due to COVID-19.
---
The Front Bottom End recall has been launched against 2017 models only.
Should you have any concerns relating to your vehicle that is not part of this current recall, please follow the step by step checks shown on the recall page. If any of these defects are present, please contact your retail selling dealership to arrange a further inspection.