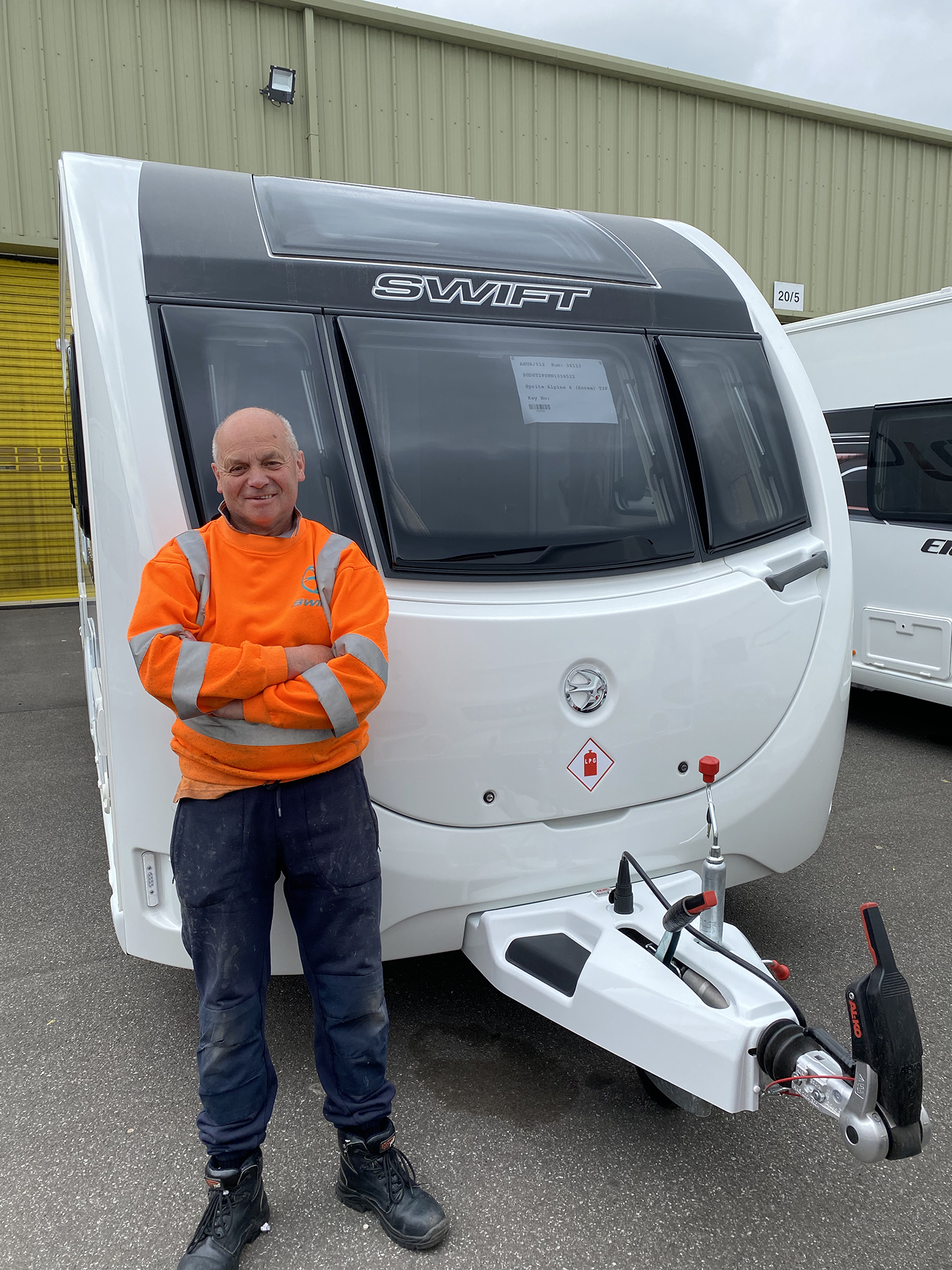 A fond farewell to Steve after 49 years at Swift!
We spoke to Steve Burton, our longest-serving employee, who starts his well-earned retirement in June, after nearly 50 years with the company! We caught up with Steve to find out more about his career at Swift and to wish him well as he embarks on his next chapter.
When did you join Swift?
I joined in August 1972 and will be leaving 10th June 2022 – so almost 50 years ago!
What was your role when you first joined Swift?
I worked in the Cab Shop making sink units – back then we had to glue and pin everything together.
What role are you in now?
I've been working in a snagging role for a few years. I receive any near-complete products off the line and work on the finer details to finesse and get it to the 'complete' stage.
What other roles have you worked in over the years?
I worked in furnishing for 27 years – back then caravans used to have 'boat roofs' and all the furniture needed to be cut with hand saws to fit the dimensions of the caravan.
Everything was made out of timber and the only power tool we had was a drill, so it was a lot more manual. Even though it's still based on craftsmenship today, things are made easier with technology and access to more power tools.
Back when I started, caravan exteriors were made up of several individual layers. These days, the layers still exist, but are compressed by on-site machinery and the caravan sides are installed in one layer.
What was Swift like when you joined?
There were fewer than 30 employees. I can still remember my clock number – 22 – and we were building five to six caravans a day. We only made caravans back then, motorhomes came later, followed by holiday homes.
What kept you here for so long?
Even though things are so different to how they were when I first started, the years have absolutely flown by. Is there anything you'll miss about working at Swift? The lads! What's the first thing you'll do when you begin your retirement? Nothing - and I'm going to enjoy it! It's my birthday two days after I retire, so I'll be celebrating with my family with whatever they have planned.
What do you plan to do in your retirement?
Both my son and daughter have drawn up their individual lists of jobs at their houses! They're pretty extensive from door hanging to wiring, so that'll keep me busy – I can't sit still for long, much to the dismay of my wife! But retirement also frees me up to spend more time with my grandchildren too, which is priceless.
Steve, from everyone at Swift, we wish you every happiness as you start your retirement!